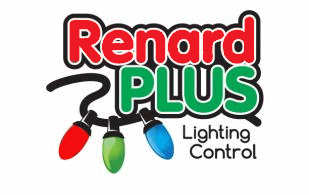 The Next Generation in Holiday Lighting Controllers and Accessories
Our goal is to further the hobby!



Welcome to the Renard Plus website where you will find information on the next generation of Renard controllers and accessories. Here you will find all the information you need in selecting, building, and using our boards. We will also provide comprehensive documentation. So come back often.


The Renard Plus Series is a PIC microcontroller based Christmas light controllers with 8, 16, 24, or 32 channels that connect to AC SSR's, DC SSR's, LED strips, or DC Floods. The board design are based on the PIC-based 8-port dimmer concept originally developed by Phil Short.

We will provide support for questions, ideas, build assistance through the DIY Christmas forum. Here you can ask any questions, use what information you need and leave the rest. We are real down to earth here and don't get excited about much of anything except holiday lighting projects.

Mac designed his first controller, the Simple Renard 32 back in 2011 and showed it off at the 1st Oregon Mini. This is what it looked like: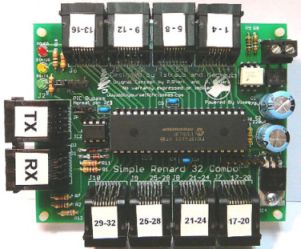 This board was designed small to take advantage of getting a low cost prototype board and as you see we have come a long way in the past couple of years. We are not a company or a business, just a bunch of guys trying to enhance and further the hobby by providing low cost easy to build controllers and accessories.


The Renard Plus Series of controllers and accessories have been designed to take advantage of newer PIC technologies and simplify board construction and use.
Uses newer PIC chips not requiring separate crystal clocking
Maintains standard Renard protocol
Can be daisy chained with other Renard controllers
On-board LEDs status lights using standard firmware
Boards designed to fit into standard CG cases
Easy for a new builders to build. Our assembly manuals have information about tools, solder, parts identification and soldering techniques
On board programming headers (ICSP) allow boards to be programmed in the display without having to remove the chip
Both low power or high power boards ideally suited for LED light strings.
Boards will support both 120 and 220 voltage using transformers that can be jumpered on the board
DMX Support firmware
Comparison of Controller Products
Features and Options
Renard Plus
TR16
Renard Plus
TR24
Renard Plus
LCC16
Renard Plus
RGB+W
Renard Plus
32
Standard Series
SS16
Standard Series
SS24
Renard 32
Ren 48LSD
Renard 64
MiniRen
Uses Renard Protocol
Does Not require external clock
Direct Serial (DB9) Input
On-board always active status lights
ICSP Programming header
Rated Processor Clock Speed
32
MHz
32
MHz
32
MHz
32
MHz
32
MHz
18
MHz
18
MHz
18
MHz
18
MHz
18
MHz
18
MHz
Built-in voltage regulator heat sink
Modern PIC Design
120/220 v input control voltage
DMX Firmware
Rated Board current
n/a
n/a
n/a
Rated Channel Current
n/a
n/a
n/a
Designed to fit into standard CG cases using existing holes
REN-W header
PIC Bypass
Fully Operates with other Renard boards
Average Cost to build
including board
$54.00
$80.00
$68.00
$46.00
$48.00
$70.00
$88.00
$50.00
$60.00
$78.00
---
Renard Plus.
Last update: 04/29/2016, 09:35:41
Page Maintained by: