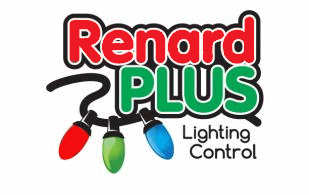 The Next Generation in Holiday Lighting Controllers and Accessories
Our goal is to further the hobby!
Renard Plus RF (Wireless) Snapin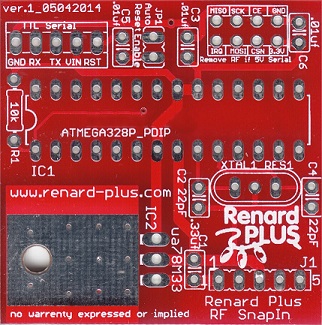 The RF SnapIn board is a wireless option similar to the RenW Snap In board except utilizing a modern, faster, lower cost NRF24L01+ wireless module. This board plugs directly into the RenW Snap In connector on most Renard Plus (and some other) controller boards. The transmitter used to communicate to this board must also be NRF24l01+ based such as the e1.31 "Komby 'Sandwich'", Komby NRF-1 board with serial input, RF-1 with DMX input, etc. Please see http://learn.komby.com for details.


Adds Wireless capability to Renard Plus controllers using Kombiee implementation
Uses standard low cost NRF redio transceiver
Direct plugin to Renard Plus (and other controllers supporting the "RenW Snap In" 5 pin port.

Based on NRF24l01+ transmitter modules that improves upon Xbee as follow:
Higher speed. Supports higher baud rates for more channels or pixels. Currently provide 512 channels of Renard or DMX (or 170 pixels) per transmitter- more possible with future development.
Better range
Lower cost (zigzag antenna modules are available around $1 USD in many places).
More channels to select from for higher transmitter count possible

Full 512 channel capable
Variety of modules available: built-in zigzag antenna, amplified with detachable antenna, etc.
Utilizes 2.4GHz band
Supports Renard protocol or DMX (must match the firmware on the controller)
Easy build and excellent documentation
Utilizes widely used "Arduino" IDE for code development and programming.
Renard Plus RF Snapin Assembly Manual v1.20
---
Renard Plus.
Last update: 10/07/2016, 10:16:55
Page Maintained by: