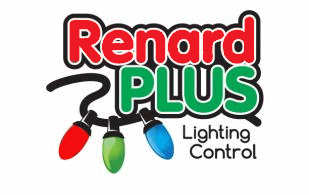 The Next Generation in Holiday Lighting Controllers and Accessories
Our goal is to further the hobby!
Renard Plus SSRhc 4 Channel High Current Relay Board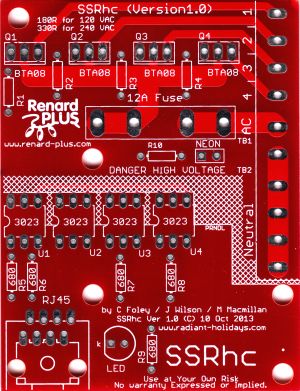 The SSRhc is an AC line level light control "solid state relay" for controlling lights where the "hc" means high current. It is controlled by a Renard controller, like the Renard Plus 32 and provides the AC power output to the lights being controlled. It supports full dimming capability as controlled by the Renard controller. The SSRhc will control 4 channels worth of lights.

Supports standard Renard protocol
4 channels
About 3.5 amps per channnel
14 amp board capacity
Can be used at either 110v or 220v
Designed to fit into a standard TS-200 case
Onboard diagnostic lights
Renard Plus AC SSR Family Boards LCSSR8 SSR8 and SSRHC Assembly Manual v1.00

SSRhc Bill of Material


Bare boards can be purchased anytime from our shop.

---
Renard Plus.
Last update: 04/29/2016, 09:35:42
Page Maintained by: